What is a MENTOR?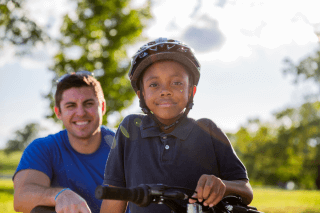 We love our "Bigs!" (Also fondly referred to as "Mentors")
Our mentors provide our "Littles" (youth or teen) with support, counsel, and friendship. They are good listeners who care and want to help youngsters bring out their strengths that already exist. Mentors act as role models, confidants and advocates, but a mentor does not have to be an expert. They only need to be a trusted adult who a youth can talk to. A mentor can be the turning point in a child or teen's life!
BECOME A MENTOR!
Mentoring Littles comes with its own rewards for Bigs, too! By mentoring youth in your community, you're sharing the wisdom and knowledge you've gained as an adult with someone who might not otherwise have access to your own experiences and perspectives. Knowing the challenges young people face can also help you grow and better understand how to work to improve your community. And there's nothing quite like knowing you've made a positive difference in the life of a child, contributing to their growth and potential success. Being a Big is an awesome responsibility that returns dividends for Bigs every day.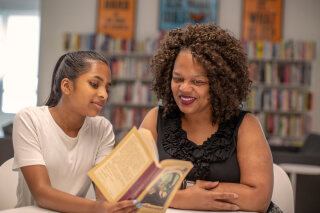 THE PROCESS TO BECOME A MENTOR TAKES JUST FOUR STEPS:
a written or online application
an in-person interview
a criminal background/DE child protection registry check and three references
mentor training (individual or group)
RESOURCES FOR MENTORS
Once an individual has completed an application, interview and background check, they will participate in Big Brother Big Sister of Delaware (BBBSDE) training online and in-person.
To ensure the best outcomes for our Littles, Bigs/Mentors are given support prior to meeting their "matches" – and this is what sets BBBSDE apart from other mentoring programs. We give Bigs tips on how to build their relationship, as well as resources for how to help a child succeed academically if they are struggling in that capacity. We also share creative activities for how you and your Little can spend time together.
TIPS & TOOLS FOR MENTORS
"Big" mentoring experiences can grow from "Little" moments.
Spending quality time with your Little is all about connecting with them – talking about a topic that interests them or doing an activity they want to try or will enjoy. No matter how you spend the day with them, know that you are having an impact on their emotional, mental and sometimes physical health. You can make a huge difference in their life! The time you spend with your Little on such things as playing a board game, tossing a Frisbee, going out to eat, or just talking about the future, is priceless. The memories you make as a Big mentor can have a great impact on your Little's self-esteem and their future choices.
For a complete list of mentoring activities, click the link below.