Macy's To Launch Multi-Year Partnership with Big Brothers Big Sisters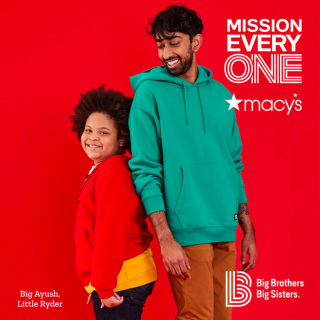 We're partnering with Macy's for the first time to fund BIG possibilities for youth through the power of mentorship of caring adults.
We are grateful for our Delaware Macy's partners and advocates who continuously invest in our mission to create and support mentoring relationships that ignite the power and promise of youth. We are honored to be a part of Mission Everyone, working alongside Macy's as we create a brighter future for all.
Throughout our 58-year history, Big Brothers Big Sisters of Delaware has matched thousands of Bigs and Littles that have impacted lives, changed trajectories, and provided innumerable memories to last the youth we serve for the rest of their lives. And we owe it all to champions for our mission like you.